---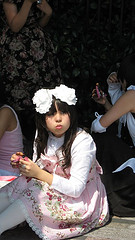 The anime kids hang out at Harajuku (Tokyo)
---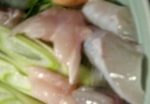 How fresh is your fish? Check out this fugu (puffer fish). Click on the image to see the video
---
The City of Austin
now has a handy searchable database of restaurant inspection scores.
---

Austin Sushi News #46, January 2007
Welcome to Austin Sushi News, a friendly by-product of the sushi website for Austin, Texas, www.austinsushi.com. Once every month or so, we bring you the latest scoop on sushi bars and related matters in Austin, Texas. You can UNsubscribe at any time by sending email to webmaster@austinsushi.com or by going to our Google Groups mailing list home. Subscribe by going to www.austinsushi.com and filling in the mailing list box. If you have any problems, please send email to webmaster@austinsushi.com.
Contents
Dishola Launches (with party)!
We gotta give props to the only local culinary web site as important as austinsushi.com. That would be dishola.com. And not only are they local, they're WORLDWIDE. Find out about Austin's Screaming Orgasm or the FUJIMAMAS Shrimp, Egg and Basil Fried Rice in Tokyo.
But whatever you do, don't miss the Dishola launch par-tay at THE RED HOUSE, 1917 Manor Road, Austin, Texas (behind El Gring0) on Saturday, January 13th from 7-9 pm.
---
Our usual group of spies, grifters, and thugs have provided subterranean sushi tidbits for this edition......
The (old) news that Austin may get a swanky "W" Hotel has heated up recently with news that their reps have been "talking" to various local sushi restaurants about partnering on the in-house sushi bar for the hotel. The "W" is expected to be built on Block 21 of the 2nd Street district.
And speaking of the 2nd Street district....that sign next to Taverna announcing the new Sushi Sake location is gone now, but nothing seems to be happening in the space. Any ideas? Let us know.
Uchi is going to expand their current location with a sister restaurant (separate entrance, sushi bar, etc) that will be reservation-only and have about 40 seats. Name to be determined.
Sushi Geisha has taken over the location formerly occupied by Arirang and across from the former Sake On Sixth.
Did we mention that Krispy Kreme doughnuts have landed in Tokyo?
---
As you know, we've got fun branded clothing and
goodies in our Cafepress store, but we now also have an Amazon A-store which is filled with Japanese cookware, foodstuffs, and other junk. Check it out here.
---
If you've been living in a cave, or living in Austin, you probably missed SushiMasters 2006, the mega-spectacular sushi-making contest in Sacramento, California, the heart of the U.S. sushi rice industry. No matter, we've got many photos for you to salivate over.