Buffets And Boats Are Back
What's doing well in the current economy? Just about anything that's cheap. Case in point -- buffets! There's nothing more deeply American than a gluttounous all-you-can-eat buffet. And, I think all Americans need to rally around our traditions during this troubled time and just pig-out. Don't let the down economy keep you from that third or fourth belt-loosening trip to the buffet! Austin's got two new additions to the sushi landscape that are perfect for such feasting, and at everyday low, low prices.
Just North of Austin in Georgetown, Texas is the Ichiban Sushi Buffet located at 1103 Rivery Blvd, suite 210. Go stuff yourself!
Now, if you'd like some some novelty in your porcine pig-out, consider the newly renovated Korea Garden which now offers a conveyer belt buffet. Korea Garden, by the way, has changed it's name to "K.G. Sushi Train" (the "KG" stands for "Korea Garden," I suppose). The "train" is merely a conventional mechanical conveyer belt (see photo in the right sidebar). But what's important here are their prices which definitely ranks it as some of the most affordable sushi in Austin. Their web site also claims to be the "very first sushi train restaurant in town." This is simply untrue, as long time austinsushi.com readers know. The old Buffet Palace North used to have a separate sushi bar with real floating boats (we mentioned this on austinsushi.com seven years ago). That sushi boat establishment closed in 2001, however.
Live Music Sushi

Quality Seafood has changed a lot since the days when it supplied 99% of all the seafood to Austin area restaurants and grocery stores. It still has its wholesale seafood business, but it's now a live music venue with some rather fun weekly events. In particular, Wednesday night is Sushi Night and there's usually live music to go along with that.
Best Vegan Sushi In Austin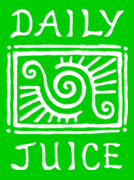 This is, perhaps, a strange category for this fish-laden Austin Sushi News report, but, especially in this age of over-fishing and mercury contamination, there is a place for our vegan brethren. And, I must say that, it's pretty hard to find high-quality vegan food in Austin. Sure, I dig Casa De Luz and Veggie Heaven on occasion, but the recently opened Daily Juice Cafe at 45th and Duval has an amazing vegan sushi roll on their menu called the Daily Sushi. The roll consists of "pumpkinseed pesto, coconut strips, shredded carrots, avocado, red bell pepper, and sprouts rolled in a crisp nori sheet and served with ginger-wasabi dipping sauce." Now that's good eatin' !
Sake Expertise
Want to learn more about sake? Check out sake expert John Gauntner's podcasts. Nuff said.
KG Sushi "Train"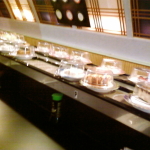 Detailed Sushi Knife Info

Check out this new (free) section on sushitrainer.com which discusses Japanese sushi knife brands and info.



The Original Sushi Pillow