Net Trivia
Grand Sumo Tournament 2008! June 7-8 in Los Angeles: only the third sumo wrestling tournament ever held in the United States. Are you going?
---
Let our buddies at Dishola.com show you some dishes that Tyson Cole rates a perfect "10". Click on their logo to find out.

---
The benefits of eating fish exceed the risks -- so says the Washington Post. We agree!

---
The City of Austin
now has a handy searchable database of restaurant inspection scores.
---

Austin Sushi News #48, April 22nd, 2008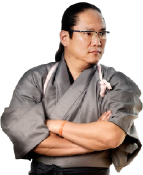 Welcome to Austin Sushi News, a friendly by-product of the sushi website for Austin, Texas, www.austinsushi.com. Once in a while, we bring you the scoop on sushi bars and related matters in Austin, Texas. You can UNsubscribe at any time by sending email to webmaster@austinsushi.com or by going to our Google Groups mailing list home. Subscribe by going to www.austinsushi.com and filling in the mailing list box. If you have any problems, please send email to webmaster@austinsushi.com.
Contents
Tyson Cole and Secrets of Iron Chef America
The packed audience at the Slammo (South Lamar Alamo Drafthouse) was delighted to witness Uchi's Tyson Cole take on Chef Masaharu Morimoto on Episode 7, Season 6 of Iron Chef America last month. Though Cole lost, 49 to 42, it really wasn't about the winning. These were two culinary masters in their element (the secret ingredient was ginger) and the results were spectacular.
In true Alamo style, the broadcast of the episode was interspersed with revealing locally-taped segments where Tyson talked about his experiences on the show. A few things Tyson pointed out:
The Iron Chef America announcer indicates that Tyson has "picked Matsomoro as his challenger," Tyson says that the show's producers make that decision, not him. In other words, it's a small lie.
Despite appearing otherwise, the food Tyson and Matsomoro prepare in front of the cameras is not the food served to the judges at the end of the episode. The actual food served to the judges is prepared later (off-camera) by Tyson and Matsomoro.
Contestants are given a list of three ingredients weeks before they show up to compete, but only one of those ingredients will be the secret ingredient. So, Tyson had to practice three different food preparations, one featuring each ingredient. Tyson thinks that the Iron Chef (in this case, Matsomoro), gets to know what the secret ingredient is beforehand (a significant advantage).
Tyson wished that Ted Allen (food critic on Queer Eye for the Straight Guy) had been one of the judges on this episode because, Tyson noted, "for some reason, gay men love my food."
Sure, Tyson lost on Iron Chef, but with Uchi grossing upwards of $100,000 per week, we think he'll be ok.

---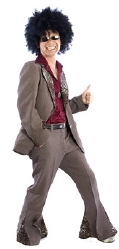 Our favorite neighborhood procurer, panderer, knave, and scoundrell, the Notorious DK (only on Monday night folks, the rest of the time, he's cool), owner of Seoul Sushi Bar, has purchased the Asian market at 5610b North Lamar Blvd and is turning it into a "one stop sushi shop" featuring a sushi teaching kitchen and plenty of Asian groceries. Bookmark this page to find out when the fun begins.

Speaking of sushi pedagogy, if you haven't ventured down to the Sunset Valley Famer's Market yet, you might want to check out the delightful bento boxes made by the husband and wife team behind delibento.com. They also offer sushi-making lessons in your home and will teach your kids too! Read the review on Austin Tidbits.
---
Newer Sushi Bars in the Far North
We confess that we haven't done justice to the growing number of sushi bars that are spreading northward towards Waco and beyond. Those sushi bars would include Sushi Caliente in Cedar Park, Tomo on Parmer Lane, Hayashi in Georgetown, Hakata in Pflugerville, Origami in Round Rock, Kaprow Leaf on Howard Lane, and Chon Som on Wells Branch Parkway (have I missed any? Probably...). And while we're at it, Origami Express near Anderson Lane and Burnet Road has changed owners and will soon be opening as Sushi Kyu, pronounced 'Q' (their web site does not appear to be up yet).