Downtown Sushi Party With Karaoke
It's been almost exactly five years since the unpleasantness, and, I have to say, that Silhouette Sushi is now truly back, and in a good way. More laid back than Kenichi or Uchi, Silhouette has good sushi, a convenient Congress Avenue location (718 N. Congress Ave), and even the occasional DJ.
To top things off, on February 2nd, they opened up downtown Austin's only karaoke club, directly upstairs from Silhouette, named Silhouette KTV (Here's the announcement from their blog). These private karaoke rooms are very well-appointed with giant flat-screen TVs, two mics, and modern black furniture. There's even sake, soju, and general booze service for the rooms. Plus, by showing your Silhouette sushi receipt, you automatically get ONE FREE HOUR of karoake. Woot! [call KTV to make sure the free karaoke deal is still happening (512) 477-3311]
Ladies should also consider stopping by on Tuesday, April 7th, from 8pm to midnite, when Silhouette will have another of their semi-regular Ganso Lady's Nights featuring free champagne every hour, bang trims, happy hour specials for ladies, music and more. Note that the image of the poster in the right sidebar is for a PREVIOUS Ganso night, not the upcoming April 7th event.
Check out their weekly happy hour menu here, including their "reverse" (late nite) happy hour on Saturday night from 11pm to 1:30am.
More DK and Sushi Making Classes

DK, the local scoundrel (I kid, I kid), good time party animal, and proprietor of Seoul Sushi Bar, has given his sushi classes an official domain name: www.austinsushiclass.com. He seems to have invested a lot of sweat into his new sushi education business, and has nicely pimped-out his Asian market/classroom up at 5610-B N. Lamar (phone: 302-1090) to make it happen. He even has a Facebook fan page (70 fans, last time we checked).
New Sushi Bar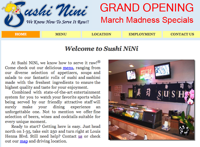 The economy may be down, but sushi is still happening. Sushi Nini has opened in Round Rock (corner of I-35 and SR45), a mere 2.5 miles south of Origami.
An OLD Poster For Ganso Night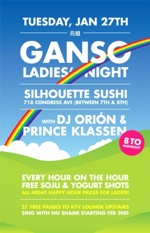 Shabu-Shabu Austin?

Shabu-Shabu is a super tasty Japanese dish that is sort of like fondue using boiling water. It's considered to be a variant of the Chinese hot pot cusiine. While some Japanese restaurants in Austin might serve you Shabu-Shabu on request, there's still no serious venue in Austin. Someone has registered this domain name, though: shabushabuaustin.com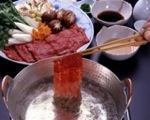 Assorted Sushi Soap