In Austin, Sushi Is Still A Bull
You can tell by my hip use of jargon (e.g. "Bull") that I've got a freshly minted business degree of some sort and am preparing to create a publicly traded company that will eventually tailspin itself into a nugatory enterprise. Yes, nugatory.
Until then, we can all count on one thing: more sushi in Austin. Case in point: a recent memo from the owners of swanky Piranha Sushi indicating that they are moving full throttle on their new 207 San Jacinto location. They even have a help-wanted Craigslist ad (screen capture). Estimated opening: end of Summer, 2009.
There are also details now on the prophesized North Austin Uchi location. It will be named Uchiko and will reside in the old Seton Medical building at 4200 N. Lamar which will be remodeled by Michael Hsu. Estimated opening: Spring, 2010.
Austin is selling sushi at both the top and bottom ends of the price spectrum, but the pricey sushi bars are clearly being fueled by the wave of immigrants that came to Austin in the past 3-4 years (especially last year when census reports show that Austin was the #1 or #2 fastest-growing metro area in the country, depending on how you slice the stats). By immigrants, of course, I mean Californians who have sold their over-priced real estate and are now sitting on too much extra cash.
1st International Sushi Day

It's not clear who came up with this concept, but if there's a Facebook page about it, it MUST be true, right? So, tomorrow (Thursday, June 18th) is International Sushi Day, and you are all hereby directed to consume sushi.
Awesome New Karaoke Coming
In case you haven't heard, the old 14,000 square foot Salvation Army location in the Lamar Plaza shopping center (home of the Alamo Drafthouse South Lamar) will soon become The Palace, complete with retro bowling alley and extensive karaoke facilities. From the recent Austin Chronicle article:
"[Alamo Creative Director] Henri Mazza and I [Alamo owner Tim League] are both absolutely obsessed with karaoke, and I promise you we are going to have the most badass private karaoke rooms in town. Each of the rooms will be themed to a different style of music, so there'll be a punk room, a metal room, what have you, all of them with a superhuge song selection."
Uchi is expanding at their current location. A sketch of the new addition from Michael Hsu Design is below (click on the image to see more detail). Not sure when this addition will go live....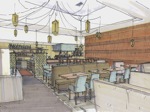 Greenpeace Protests at Nobu

"....although dressed in blazers and billowy dresses like any other patrons on a weekend night, the demonstrators, who had reservations, carried fake menus with endangered-species dishes, like "Rack of Mountain Gorilla Seasoned with Powdered Rhino Horn" ($32). The menus, which were printed in a font similar to that used by Nobu, were meant to be slipped among those used by the wait staff, so servers might unknowingly hand them to diners."
The full New York Times story is here.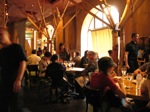 Designer Issey Miyake Shows Off His Clothing Line By Making The Clothes Look Like Sushi