New Sushi On The Horizon
Bad economic times never seem to stop the flow of sushi into our faces, and, notwithstanding the proportions of this economic bust, some new sushi is on its way.
More than two years after we first announced their opening, and just four months after they were padlocked, the second Sushi Sake location is set to open on December 5th at 206 Colorado Street. We're really hoping they have their web site up by then.
On the forthcoming list is Piranha Killer Sushi, a swank chain out of Arlington, Texas, that is "leasing 3,000 square feet at 207 San Jacinto St, the building just north of P.F. Chang's on the corner of Third Street," according to the Austin Business Journal.
Faster, Stronger, Better?

The AustinSushi.com team took a stroll over to Maki, the latest spin on "fast" Japanese food, and was mightily impressed by this new Austin operation. They are, essentially, a roll-your-own sushi roll bar where you walk up to a counter, point at the ingredients you want, and the person behind the counter (not a sushi chef) makes the requested roll. In order to speed up the delivery time and lower employee costs, they utilize a sushi robot, specifically the Audio-Technica ASM 860, that spreads the rice onto the nori. This allows for relatively unskilled labor to complete the roll.
The place has a noveau fresh ambiance with a pleasant lime green color and spiffy graphics on the wall. It's definitely "fast" food and not a sushi bar, but still a great place to get a sushi fix when you need something fast that's well-prepared.
Going Green With Sushi
If you're one of those folks who bicycles to Wheatsville with your own canvas bags, and you're wondering how to lower your environmental footprint at the sushi bar (aren't we all? :-), then look no further. The overused and ill-defined word "green" got another boost in a recent Washington Post article which points to consumer groups that are offering seafood guides to help sushi patrons make the wisest sushi choices. The guides suggest that "it's time to say sayonara to toro (aka bluefin tuna). Hamachi (yellowtail)....And ... freshwater eel and avocado rolls -- unagi is also a big environmental no-no." These guides will help you decide which seafood species are in various stages of danger. The three guides, from the Environmental Defense Fund, Blue Ocean Institute and the Monterey Bay Aquarium, are available as handy links (to PDF files) in the "Fun Links" section in the right column of this newsletter.
Sushi Classes and Catering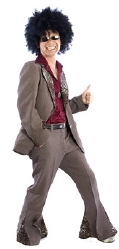 The notorious DK has apparently revved-up his sushi making machine, and is offering classes on a weekly basis (every thursday and saturday) at very affordable prices.
Meanwhile, Andrew "Kiniakua" Grambusch is now offering catering and classes as "Sushi Anyone?". From the looks of his photos, he has some chops.
Husband and wife team, Take and Kayo, owners of delibento.com, also offer sushi catering and classes. Check out their "Little Rollers" class for kids!
Sushi Trend Alert
The glowing "extraordinarily orange" Koni Stores (small sushi shops) that are dotting the Brazilian landscape are open late and serving mostly temaki (handrolls) which they have elevated to a "post-clubbing snack on a par with pizza," according to this article in the New York Times.